Watch Steel Bridge 2021 online Saturday, June 12th at 7pm CST!
click here to view on YouTube!
Assuming this covid thing will soon "just go away," let's boldly proclaim that Steel Bridge 2021 will be our last "virtual-only" Songfest. And the best one yet!
Like with our last three online events, our live hosts will again present a combination of streamed performances & stunning videos. Streaming from across the U.S. and Sturgeon Bay's Holiday Music Motel & Tambourine Collaboratory, the night will bring many nice surprises. (Are we bad people if one of our goals is to make those who miss the show regretful and sad the next day?) "Music So Fresh, It Hasn't Been Written Yet" is being written as we speak, and dazzling video works are well on their way to storyboards and locations. And our technical crew and event planners ("the molten core") are already losing sleep, though not missing it (we actually love doing this). And it's all for ONE NIGHT ONLY (!!!) of unrestrained entertainment aimed at further aggrandising a bridge? Yes, that's the simple explanation but more information is coming soon, so stay tuned! And please mark Saturday following the 2nd Thursday of June (the 12th) on your calendar!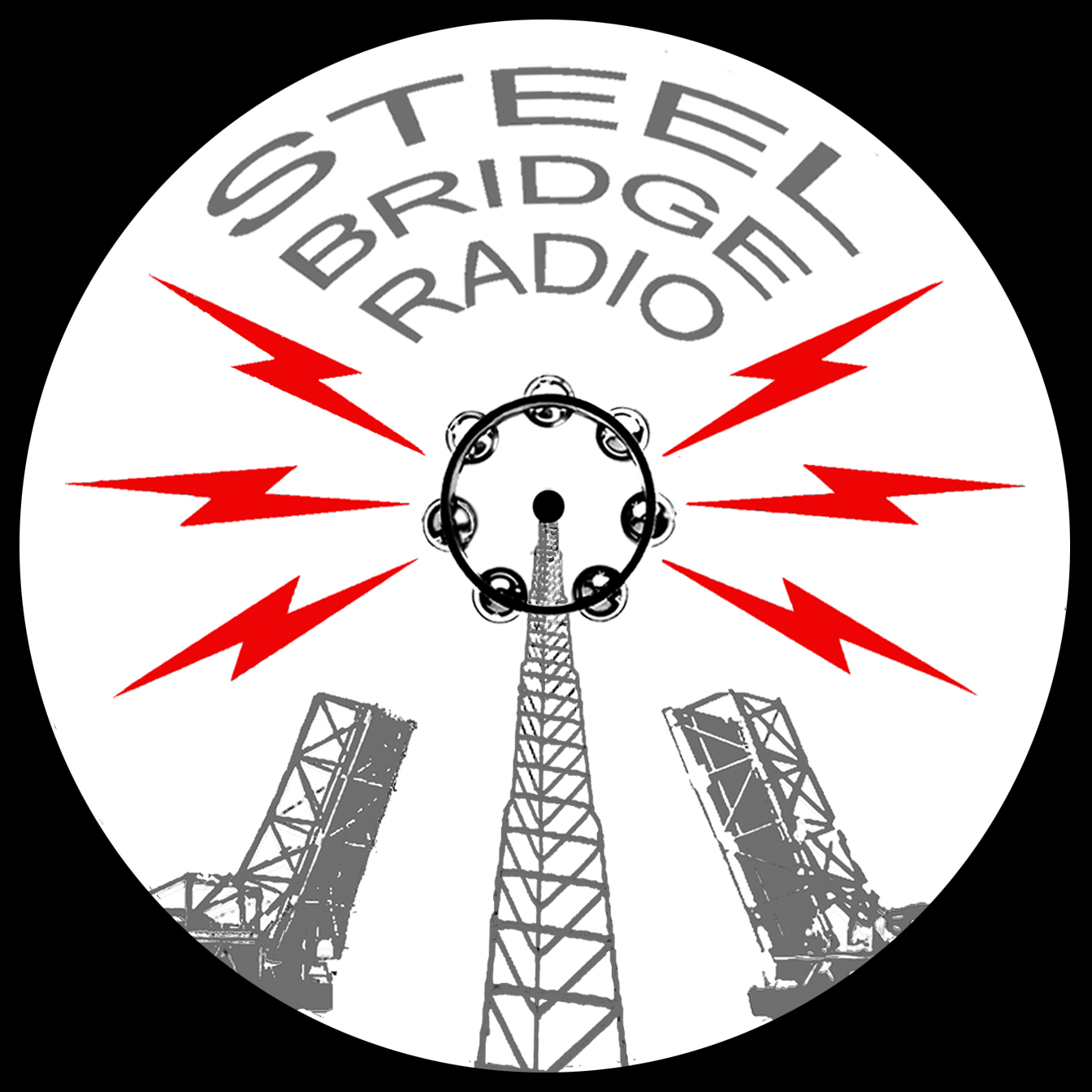 Download the free app to your favorite devices or listen online
to hear a huge selection of songs written and recorded at
Steel Bridge Songfest, Dark Songs, & Love On Holiday!
Your tax deductible donation funds the ongoing development of Steel Bridge Songfest along with our year-round efforts to bring new creative energy to Sturgeon Bay.  A healthy creative atmosphere is essential to - if not synonymous with - a high quality of life.  By the simple act of donating to the Steel Bridge Creative Foundation, you're helping to grow and maintain a nurturing environment for all creative endeavors to thrive.  Our core organizers are volunteers, so every dollar you donate goes directly to the work, not our pockets.  Whether you sign on for a monthly donation or a one-time act of impulsive generosity, we love you all the same. <3 (:  
"This festival brings it all together...
tremendous musical talent, the creative process, social commitment, historic vision and, most of all,
a real organic and comfortable vibe. I'm honored to be part of it because I love that old bridge and
I love what the organizers and supporters are doing to save it.
And making it happen with all that great music is just too cool."
- Len Nelson, 105.7 WAPL
Steel Bridge 2.0
Non-profit gets new name and wider focus   
After much soul searching and discussion, we the organizers of Steel Bridge Songfest are ready to reveal some significant changes for 2019 and onward. We hope Steel Bridge supporters in the community will be as excited about these new developments as we are.
Looming necessities made 2019 our year for taking the longer view. In conjunction with the changes for Steel Bridge Songfest, we're expanding and re-branding our 501c3 non-profit (Citizens for our Bridge) as the Steel Bridge Creative Foundation (SBCF). This will not only bring new relevance to the Songfest, but also secure the survival of other events like Dark Songs and Love On Holiday. It will also give us room to explore endless possibilities for The Tambourine Collaboratory (our arts incubator) and the newly-designated Steel Bridge Creative District (more on that later).
Making new things happen is hard, and with the festival and more far-reaching visions vying for our full attention, we need to put our energies where they're most needed. Therefore we'll be taking a break from the pub crawl and the Holiday parking lot portions of the festival until further notice.
While the pub crawl has been an annual shot in the arm for the local bar scene, and the outdoor festivals provide some good clean fun for the community, our strongest supporters know that the heart and soul of ALL of our events has always been The Construction Zone where the songwriting and recording happens. This collaborative group process, based on games of spin-the-bottle, is unlike anything else happening anywhere. And we happen to be blessed with the perfect performance venue for bringing it all to light. We love working with Third Avenue Playhouse (TAP) and we're excited to begin focusing exclusively on the writing, recording, and presentation of our newest "music so fresh, it hasn't been written yet" at TAP.
The endless hours normally devoted to organizing a pub crawl etc. will go toward developing Steel Bridge Creative Foundation as an active entity supporting a wider range of year-round projects while promoting the catalog of over 1,300 songs already created, going back to 2005. 
In concert with these changes, we'll focus on fundraising for the rebranded non-profit (SBCF) which has always funded Steel Bridge Songfest (previously as Citizens For Our Bridge), but will now step up to fund all of our events. Additionally, with help from the community, SBCF will fund the hiring of support personnel to assist with grant writing, database development and PR. The non-profit will also support campaigns to promote our catalog of locally-inspired, locally-written songs (thirteen-hundred and counting!) through song publishing & placement, expansion of Steel Bridge Radio, video production, and anything else we can make happen by turning up the heat in The Tambourine.
We deeply regret any disappointment felt by those in the community who will mourn the loss of the pub crawl and outdoor festival portions of the event. But we trust that our core supporters will understand and join us in this new trajectory we're on. Perhaps in the future we may re-add these elements back into the mix. We remain open to future collaborations that would embody the Steel Bridge spirit and support our years of effort toward developing a vital original music and arts scene in Sturgeon Bay.
Meanwhile, we're doing our creative best to raise the bar while raising the means. All contributions to the Steel Bridge Creative Foundation, including ticket buys for all Steel Bridge and Holiday Music Motel-related events, are tax deductible. This includes house concerts, all our shows at Third Avenue Playhouse, online subscriptions, and any future entertainment and/or educational experience we can dream up.
Thanks for serving the local art, music & preservation scene by supporting Steel Bridge 2019! ☺